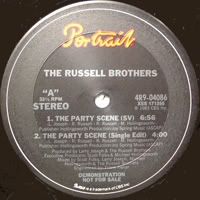 The Russell Brothers: "The Party Scene 12" Single"
Portrait, 1983 (Hip Hop)

The Party Scene (SV) (9.5 MB)

This 12" single is the only release by The Russell Brothers, and as far as I know, it was merely a demo that wasn't officially released. That is a huge shame, as this record is simply outstanding considering the date of it's release, 1983. The production is years ahead of its time, and no other early hip hop producers came near making a sound like this. The lyrics come off as nearly cliché, but I'm sure that at the time of the single's release they were more original. Even by now, 23 years later, this single has not gained the recognition it deserves, or even reached many fans of early hip hop who would greatly enjoy it.