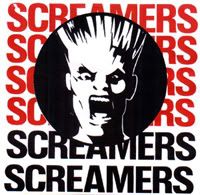 The Screamers: "Demos, 1977-78"
N/A, 1996 (Synth Punk)

In A Better World (5.28 MB)
Vertigo (4.89 MB)

Although the Screamers never released an album, they were one of the biggest bands of the late 70's LA punk scene. All of the tracks on this demo were recorded "live" in one session during the Summer of 1978, and recorded on a 4 track. This demo is a good introduction to the band, seeing that it is the closest thing to a studio album they made. The absence of guitar and bass, which seem to almost be standard in punk music, and the presence of keyboards gives this band an amazing sound that has more intensity than any other punk group of the era. In my opinion, both of these tracks are the two most energetic on the demo, but don't let that fool you. The Screamers possesed an original sound that integrated complex musicianship and had much more to offer than your average punk band.