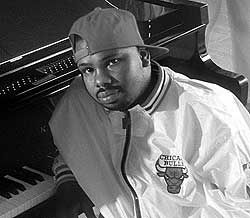 (cover image not available)
DJ Screw: "Einstein"
Screwed Up, 1996 (Screwed & Chopped Hip Hop)

ESG - 187 Skills (9.6 MB)
This is my favorite track from my favorite DJ Screw tape out of the 80 or so that I have. It's one of the best recorded examples of DJ Screw's scratching, not to mention the fact that the song itself is trill az fuck. It's "common knowledge" that DJ Screw died of a heart attack induced by codeine (from the cough syrup that his style is accompanied with), but apparently his autopsy states that methamphetamine was also found in his system. He wasn't a user of this drug, so some believe he was sabatoged by someone close to him.