Fairfield Parlour: "From Home to Home"
Vertigo, 1970
(Psych pop)

DOWNLOAD (138.13 MB)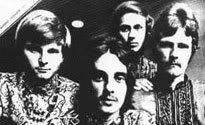 The story goes, around 1969 after Kaleidoscope had released two albums on the Fontana label, the band had disputes with the record label and left. They were not able to take along their name, so they became Fairfield Parlour. Compared to the Tangerine Dream album, From Home To Home shows maturity in the bands sound. It is much more mellow and the musicianship is much more precise. If you like Kaleidoscope, you will more than likely enjoy this album.


Peter Daltrey's Myspace page. I urge you to send him a message on there telling him what you think of his work, if you feel inclined to do so. I did and received a response.