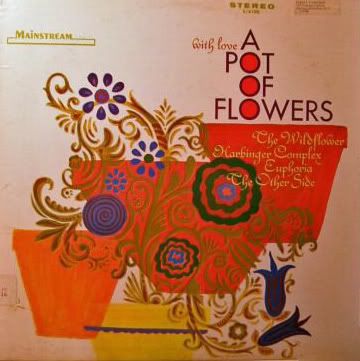 The Wildflower, Euphoria, The Other Side, The Harbinger Complex: "With Love: A Pot of Flowers"
Mainstream, 1967
(Psych)



Sample Song: The Wildflower

-

"Wind Dream"




DOWNLOAD (40.86 MB)

This

complilation

is made up of only

four

bands:

The Wildflower

,

Euphoria

,

The Other Side

, and

The Harbinger Complex

. Considered by many collectors to be one of the most enjoyable Mainstream LP's, this compilation runs the gamut from mind-altering psychedelia to jangly folk to Anglophilic rock. The original LP of this goes for well over $100.


In other news, my internet connection has been fixed. Also, I plan to start uploading albums of different genres within the next week or so. Please comment with some things you'd like to see here. Also, let me know if I start posting too many things of other genres and you start to miss the psych albums (which I will still be posting, just not as often as now).